March 7, 2018
11 Types of easels – Find the Perfect easel for you
On the market there are lots of Types of easels and the embarrassment of the riches can be confusing, above all if this is the first time you are looking for an easel. That's why I've created a complete list of all the types of easels. I hope this list will help you find the easel which suits you the best!
The easel is a fundamental tool for every artist so it can't miss on the list of the Oil Painting Supplies For Beginners.
Categories of easels
According to their features, easels can be divided in these "main groups":
Studio easels: If you are looking for stability and strength rather than portability you should take in account studio easels. They come in all dimensions so you'll easily find the one which is perfect for you. The biggest and strongest studio easels hold very big canvases (up to10ft -3 meters- of height and 220lbs -100 kg- of weight). Many studio easels can also be hybrid easels.
Take into account that studio easels aren't designed for painting en-plain-air (outdoor).
Convertible/hybrid easels: If you work not only with oil or acrylic paint but also with other mediums like watercolors, then a convertible easel is the one that suits you the best. These easels can be rotated from vertical to horizontal and vice versa.
Display easels: This type of easels are used to expose the finished artworks or to let them dry. They are not suitable for holding the canvas while you are painting.
Portable easel: This type of easels is perfect for everyone who wants to paint en-plain-air i.e outdoor. They are lightweight and can be easily folded to be carried around. Moreover, these easels often include a box where you can put everything you need to paint, such as tubes and brushes. Concerning the support, they have a place where you can put your canvases or canvas panels.
Some models of portable easels can also be hybrid easels.

---
Types of easels
H-frame easels: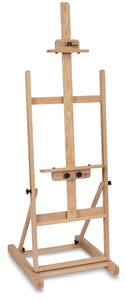 The H-frame easel owes its name to its design: Indeed, the two parallel
rods and the horizontal one draw an "H" in the space.
This type of studio easels is characterized by a very high robustness. If you have a heavy hand and you want your canvas to stay still while you paint this easel is perfect for you.
Floorstanding H-frame easels can hold very big canvases, but keep in mind that they take up some space and often they can't be folded to be less bulky, so I suggest you take them into account only if you already have a space dedicated to painting.
Not enough space for a floorstanding easel? No, problem: H-frame easels come also in a tabletop version, which takes much less space and can be easily stored. A tabletop H-frame easel can hold canvases up to 2,30ft -70cm- height!

A-frame/lyre easels:

Like the H-frame easels a

lso the A-frame easels owe their name to their design. However,  A-frame easels have got a tripod structure, instead of a rectangular base.
This type of easel is lighter than H-frame easel and can be folded to occupy less space, so its easier to carry around. However, less weight means less stability.
Usually A-frame easels can hold canvases of  4,20/4,60ft – 130/140cm of height.
A-frame easels are cheaper if compared to their H-frame cousins (the most expensive A-frame easels cost about 400-500$ versus the 2000$ of H-frame easels).
Keep in mind that in this nice the quality is directly proportional to the price!

 Windmill easels:
Initially they may look very odd, but the more I think about windmill easles the more I like them. The name  "windmill" derives from the fact that they look like a windmill and besides their unique design they offer a lot of advantages.
Unlike all the others kinds of easels, the windmill easels secure your canvas on the edges, ensuring even very long canvases from wobbling.
With a windmill easel you can rotate your canvas not only from vertical to horizontal, but also upside down without getting it of the easel. Indeed, you can even rotate it of 360 degrees.
Radial easels:
Radial easels are usually used for school purposes. They are composed by a central rod sustained by a tripod structure.
Radial easels can accommodate canvases of 6/62,5ft – 180/190 cm height but they are lighter and are less stable than H-frame easels and A-frame easels.
Usually they cost between the 30$ and the 500$.

Tripod easels: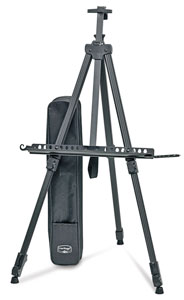 Usually made of aluminum, they look like the camera tripods. Tripod easels are very lightweight (usually they less than 3 kg) and this feature may influences negatively their stability. However, they also have some advantages: they can be easily folded and take up practically no space and are very cheap. You can have a tripod easel for less than 50$ so they are perfect if you have a limited space!
Single mast easel: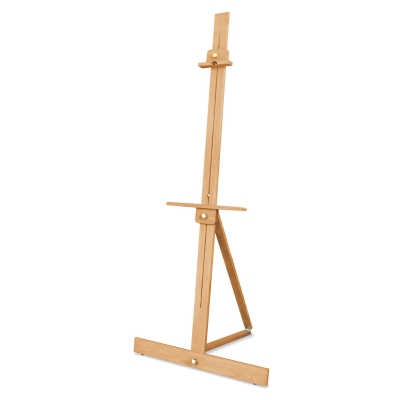 Often they are recommended for students or beginners who don't have too much space. Indeed, they can be folded and put under the bed.
The price range of single mast easels moves around the 100-500$. Some models are also convertible id est they can hold the support both horizontally and vertically, advantageous feature for everyone who uses different mediums.
Wall-mounted easels: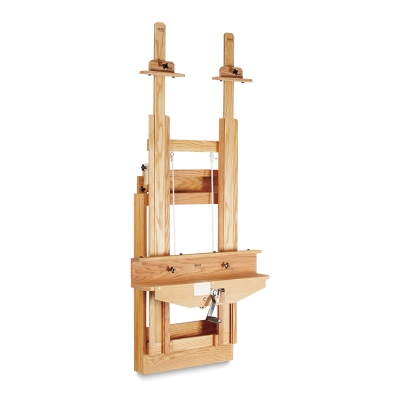 As the name says, these easels have to be mounted on a wall and can't be moved, so they are recommended for artist who have a permanent space for painting.
Quality models are sturdy, can hold large canvases and, since they are hanged on a wall, they take up little floor space.
Paint stations:
They are emplacements equipped and designed specifically for artists. Paint stations have enough space to contain all your supplies and can also have a built-in easel. Some models can be composed by different blocks. Paint stations are very bulky and so check if you have enough space before buying one of them.
 French style easels:
If you want to paint en-plain-air a french-style-easel is a great item.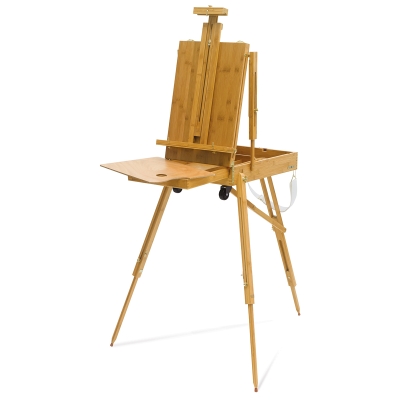 It has got a box where you can put everything you need to paint or draw and the tripod structure makes it stable also on rough surfaces.
If it is folded it takes up very little space and usually it is sold with a special bag to let you carry it around on your shoulders for more comfort. Moreover, the bag has enough space to contain not only the easel but also the canvases.
When unfolded french style easels look like floorstanding easels, this feature makes them perfect for plain-air painting.
The price of a french style easel moves around the 150-450$ but it can reach the 750$.
Pochade boxes: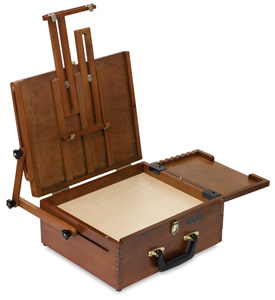 Pochade boxes are suitcases for artists. They are designed for outdoor painting so they arelightweight and you can easily carry them around. Moreover, they have enough space to contain both your supplies and your supports.
However, most of them allow you to use only supports with limited dimensions, so before buying them it's better to check out their size.
Pochade boxes can also be hooked to a tripod while you paint in order to get more comfort (pay attention: it is sold separately and can cost more than 100$).
Usually Pochade boxes cost between 100$ and 200$.
Horse/bench easels: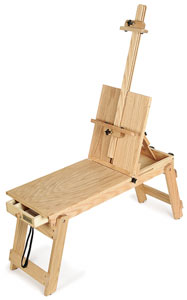 The horse easel is a fusion between a bench and an easel. It's not too heavy and can be folded to be carried around, moreover you can sit on it while you paint or draw.
However, I don't think it's the best choice if you want to use it for en-plain-air painting because it doesn't have a box to put your paraphernalia and even if it is foldable it's rather bulky so I would opt for others types of easels for outdoor painting such as french easel.
---
Pay Attention: Before buying any easel consider the space available, the dimensions of the canvases you want to use and if you are going to use outdoor, indoor or both.
Moreover, if you want to buy an easel from an online store don't trust merely the image but give an eye also to the item specifications to be sure that the dimensions are adequate for your needs.
If you have found this post helpful and/or you have some questions about easels just leave a comment and I'll answer as soon as possible!